I wanted to share the Book Beginnings meme from
A Few More Pages
.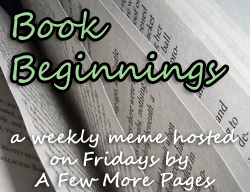 How to participate:
Share the first line (or two) of the book you are currently reading on your blog or in the comments. Include the title and the author so we know what you're reading. Then, if you would like, let us know what your first impressions were based on that first line, and let us know if you liked or did not like the sentence. The link-up will be at
A Few More Pages
every Friday and will be open for the entire week.
Here's the beginning of my current read. It's
One Good
Turn
by Kate Atkinson.
He was lost. He wasn't used to being lost. He was the kind of man who drew up plans and then executed them efficiently, but now everything was conspiring against him in ways he decided he couldn't have foreseen.
I decided to write the first three sentences since the first two were so short.
These first lines are not particularly intriguing to me. I hate being lost especially while driving, so these first lines probably reminded me of that when I first read them. And I have images of the character arguing with his navigation system. And the third line makes me feel that this character is either too precise, too tense or a serial killer. For some reason his precision makes me feel he may be a murderer.
But in the next line, we discover he is in Edinburgh, which is a city I love, so right away I am interested in the story!