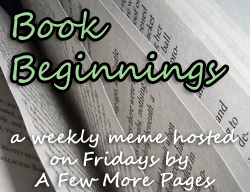 How to participate: Share the first line (or two) of the book you are currently reading on your blog or in the comments. Include the title and the author so we know what you're reading. Then, if you would like, let us know what your first impressions were based on that first line, and let us know if you liked or did not like the sentence. The link-up will be at
A Few More Pages
every Friday and will be open for the entire week.
The title: The Masque of the Black Tulip
Author: Lauren Willig
I bit my lip on an "Are we there yet?"
If ever silence was the better part of valor, now was the time. Palpable waves of annoyance emerged from the man beside me, thick enough to constitute an extra presence in the car.
The Masque of the Black Tulip is the sequel to The Secret History of the Pink Carnation, which I thought was a fun read. I expect The Black Tulip to be similar and a welcome respite from the profound and fearsome To the Lighthouse, which is what I'm reading as a read-a-long with Unputdownables.net