How to participate:
Share the first line (or two) of the book you are currently reading on your blog or in the comments. Include the title and the author so we know what you're reading. Then, if you would like, let us know what your first impressions were based on that first line, and let us know if you liked or did not like the sentence. The link-up will be at
A Few More Pages
every Friday and will be open for the entire week.
Title
: The Physick Book of Deliverance Dane
Author: Katherine Howe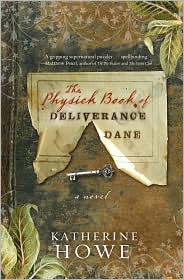 Great title, interesting premise.
"It would appear that we are nearly out of time," announced Manning Chilton, one glittering eye fixed on the thin pocket watch chained to his vest.
I have been wanting to read this book since it was released in 2009. It's premise about a present day Harvard grad student and her mysterious connection to Salem, MA and the infamous witch trials immediately caught my attention. I am a little over halfway finished and so far I am not disappointed.